The Committee
Chair
Lindsay McMorran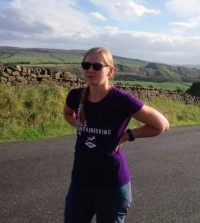 As chair, it's my job to ensure the smooth running of the club by organising regular committee meetings and the AGM. I also liaise with the BMC and make sure each committee member is supported in their role. Basically, I talk too much and send a lot of emails. I believe I am the second female Chair we've had as a club and since people only ever remember the "first" of anything, I'll have to make sure to do something suitably controversial to ensure my place in the LMC history books. Watch this space...
When I'm not plotting to disgrace myself, climbing is my favourite way to spend my free time, but questioning my life choices probably comes a close second. I also spend my time running, walking, mountain biking (poorly), doing yoga, eating cake and going to the pub.
Treasurer
Andy May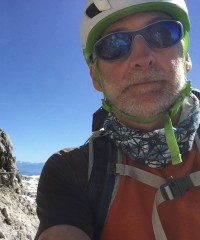 As Treasurer, I look after the books. Whether that is collecting subscriptions and sending the BMC their cut, to paying for hut accommodation and strong-arming fees from attendees. Culminating with a set of balanced books to present at the AGM.
I have been a member of the LMC for over ten years. Enjoying the opportunity to climb, mountaineer and walk in the great outdoors. As a side-line, I do a little cabinet making, although my wife complains that more stuff goes in the workshop than leaves it.
Meets Secretary
Helen Burns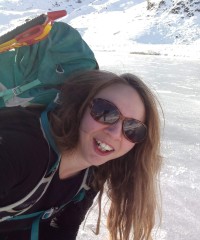 I'm Helen, the Meets Secretary, my role is to organise the weekend meets ensuring the LMC is full of mini UK adventures all year round; generally camping in the summer and huts in the winter. I am also responsible for the organizational side of things such as ensuring meet leaders have all the necessary information and keys etc. I like all flavours of climbing and encourage meet location suggestions, share the love: take us to your favourite crag!
Membership Secretary
Sarah Sharps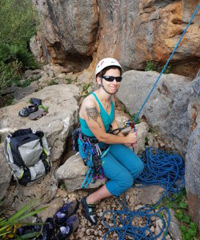 As the membership secretary my role is to ensure our membership database is up to par, welcome and pester new members to participate in things and chase potential new members around until they join.
I enjoy climbing mostly, indoor and outdoor. I have a love hate relationship with gritstone but climb on it anyway because apparently it's the done thing around here; I guess I do enjoy a good hand jam or two... at least when my tiny hands fit. I love a bit of mountain biking, and I am an occasional walker, rarely straying into mountaineer territory. Generally happiest wandering in the Lake District in the summer with my family, a bag full of snacks and a mega flask of tea. I also enjoy photography, film making, and desktop publishing.
Communications
David Ponting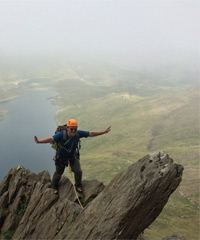 I'm the communications secretary, which means I'm the source of the [insightful/entertaining/insert-adjective-of-choice-here] emails that land in members' inboxes every so often, as well as being a general point-of-contact for the club. In mountaineering terms, I was fortunate enough to be introduced to the mountains in my teens, and have spent my time since then walking, scrambling, climbing and skiing whenever I've had the chance! After spending years in the flat fenlands of Cambridge, moving up to Leeds six years ago - with beautiful countryside on our doorstep - has been an excellent choice and I have thoroughly enjoyed exploring said countryside and beyond with the club.
Away from the mountains, I'm a research scientist by day and a keen cyclist, photographer, cook and gardener.
Social Secretary
Tayah Hopes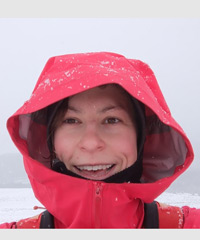 I'm Tayah and I like mountains, seacliffs and awkwardly jamming my various body parts into gritstone cracks. As social secretary, I organise the start of season social, summer bash and the prestigious annual dinner. Suggestions for further shinanigans are always welcome.
Climbing Coordinator
Martin Wells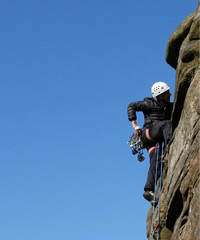 As Climbing Coordinator my role is to schedule an action packed set of summer Tuesday evening climbing meets with some day trips thrown in for good measure. The club members volunteer to be meet leaders and help set dates, locations, times, car park/meeting points and detailed weather forecasts with backup options in case of poor weather.
If you want to join us out on an evening or a day trip, please register on the web site, send us note on the bulletin board and we'll try to pair you up with climbers of a similar ability.
Walking Coordinator
Alice Horsey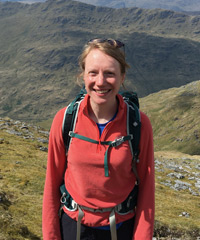 Hi, I'm Alice! As walking coordinator I plan the monthly walks, which can take us anywhere in the surrounding Leeds area, Yorkshire Dales or sometimes the Peaks. I love a walk with a lunch stop which has a lovely view so even if we're not ticking off the classic summits the walks will still be interesting, perhaps in an area members aren't so familiar with or on paths which are slightly less well-trodden. Given we're in Yorkshire there will always be a good amount of elevation and a pub at the end for a pint and a chat about our adventures!
If you'd like to join, please register on the web site and drop us a message on the bulletin board and we'll look out for you at the designated meeting point.
Ordinary Member
Dixy Msapato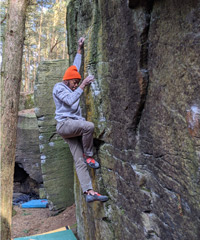 Hi, I am Dixy. I am the current "ordinary member". My role primarily involves managing the LMC's instagram page. My goal is to make the LMC a world famous mountaineering club, and to hopefully attract new members.
I like all manner of climbing; bouldering, sport, and trad, with bouldering being my favourite because it is how I got into climbing. I also enjoy skiing (the little I've done), but really I'm generally down for trying anything mountaineering.
Ordinary Member
Thomas Cheyney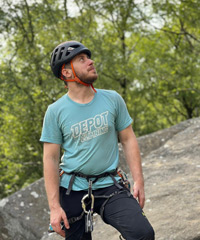 A previous member of the club and a continued fixture at the depot, I finally decided to commit by joining the committee albeit in a very ordinary way. Originally from a flat area in the south of England, I moved up north to study CompSci at Uni, discovered Yorkshire's natural splendor and never left. I've been skiing since primary age, am a frequent walker and took up bouldering and climbing shortly after moving to Leeds. I'm looking forward to spending more time outdoors and abroad this year. Having worked in Software for the past 6 years, I plan to help advise the committee on IT solutions this year.